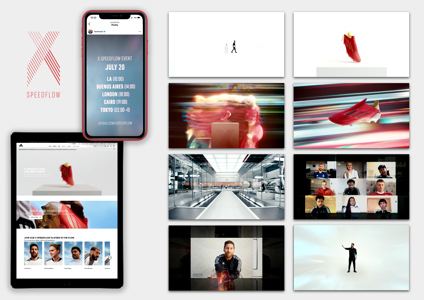 ---
X Speedflow
The Marketing Store
---
Client: Adidas

Partners: The Panics, We Are Audio

In July 2021, adidas launched a revolution in football boot design: The X Speedflow — a complete game changer.
adidas needed a world-wide launch for X that would grab Gen-Z's attention, tell our speed story and product benefits in a clear and emotional way, and ultimately drive sales.
We knew we needed to shift the thinking from how fast a boot makes your feet to how fast it can make your mind - a boot that makes you think as fast as you run. We called this 'Speedfulness' – where mind, body and boot work in perfect harmony to achieve a higher state of speed.
In the first ever live experience on adidas.com, we took our consumers on a tour-de-force mind-bending virtual exploration into the world of Speedfulness and what speed means in the modern game.
We created a world that defied science and time and a virtual host led us through the experience. We live streamed 9 of the world's fastest players to be interviewed, before welcoming back the Greatest Of All Time, 7 times Ballon D'Or winner, Lionel Messi back into the adidas speed franchise, taking a deep and surreal dive into his mind.
The interactive event was transcribed into 47 languages, so wherever you were in world you were guaranteed the full Speedfulness experience.
With more than 213 million completed views and 28 thousand sales, the results were as phenomenal as the experience itself.