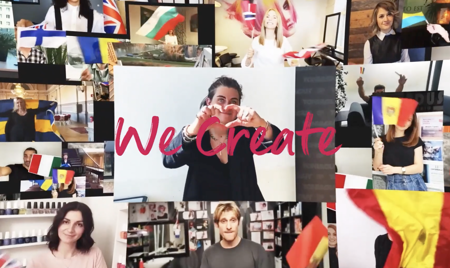 ---
WE Create
Smyle
---
Client: Wella

Smyle created a head-turning event for hair brand Wella, with beauty and hair professionals and stylists gathering online from around the world for Wella 'WE Create', a free-to-join event which took place in April 2021. Wella's first-ever WE Create virtual event allowed the brand to pivot into digital and reach a wider audience than ever before. To grab the attention of busy hair professionals, Smyle designed an interactive TV-production styled event, featuring a range of topical content that was carefully curated, with snappy bite-sized pieces sitting alongside longer, more in-depth features.
With 20 of the world's most accomplished hair artists taking part, WE Create shared styling transformations, trend insights, hair hacks, business advice and sustainability tips. The event also featured the International TrendVision Awards, with seven category gold winners announced live online. WE Create also showcased two all-new hair collections, designed during the pandemic by 13 guest artists around the world, who collaborated entirely via Zoom.
To cater to an 86% mobile-first audience, Smyle custom-built its own dedicated hosting platform to stage the event. Content was delivered in 11 languages and the entire event was held twice on the same day, allowing the global audience to choose a start time best suited to their location.
The initial target was 10,000 viewers, but the event was completely over-subscribed with more than 78,000 registered, and 25,000 joining on the day, with levels of interaction generating 65,000 comments in the chat. A further 10,000 watched material after the event on demand.