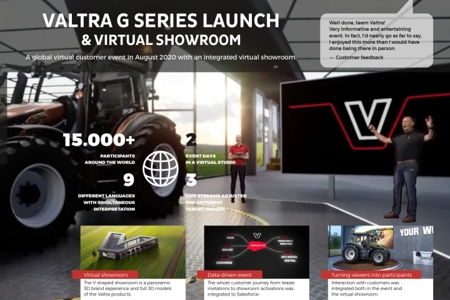 ---
Valtra G Series Global Virtual Launch Event and Showroom
Client: Valtra
---
Agency: TAPAUS

Valtra G Series tractor launch could not be organized in the physical world due to the corona pandemic, so we were asked to create a virtual concept that would match the high expectations of the fans and customers of Valtra, as well as retailers and media.
Instead of a one-off event we created a permanent customer interface - Valtra virtual showroom. The G Series launch in Month 2020 served also as the launch of this concept.
The launch consisted of 3 customized events during 2 days for different target groups. They were broadcasted from a green screen studio and the attendees were able to select live interpretation in 8 languages. Live chat, Q&A and quick polls added interaction to the event.
After the event all attendees were guided to experience the virtual showroom themselves. It is a panoramic 3D experience with full 3D models of the Valtra products, simulators, games, information and much more. It is open 24/7 for everyone and will serve as the venue for future events as well.
The whole customer journey from teaser invitations to showroom activations was – and still is – integrated to Salesforce, and the launch was an immediate financial success.
Thanks to the successful G Series launch Valtra was able to sell out six months' worth of production