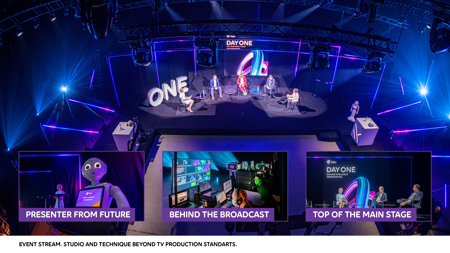 ---
Telia Day ONE 2021
TAPAUS Oy
---
Client: Telia Finland Oyj, Prospectum and Creative Technology

CHALLENGE
Telia is a major ICT company that had organized "Telia Day One" live event for its key corporate customers and prospects in 2019 to sell a variety of services and enhance the brand image.
In 2021 we were assigned to match the great 2019 results with a virtual event – a task that seemed, if not impossible, at least challenging.
STRATEGY
We concluded that the key to success is to maximize the time participants spend in one-to-one conversations with Telia people. By re-thinking the traditional format, a virtual event can actually be more effective in networking than a live one, since there is no idling about and everything can be measured.
EXECUTION
The invitation process and pre-marketing concentrated in pre-booking one-to-one meetings.
On the event day, our news studio inspired stage show kept the audience entertained for the whole day. In addition to pre-booked meetings, participants could also have ad hoc video calls with Telia specialists.
We even modified the whole event platform to enable fluent one-to-ones with video and sound.
RESULTS
The main goal was to match the value of RFP's (requests for proposal) of the 2019 live event. That goal was exceeded by 846%.
Before the event only 18% of participants would recommend Telia as a full stack ICT partner – after the event the figure was 80%
On average a participants spent 5 hours 20 minutes in the event, and the feedback from Telia staff reached all-time high.