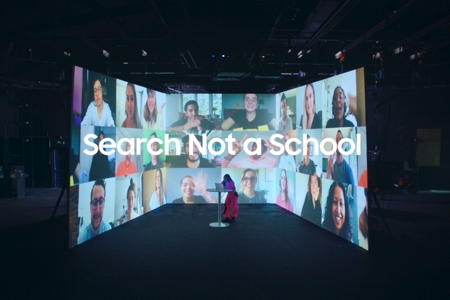 ---
Not a School
Client: Samsung UK
---
Agency: Iris London

Samsung Not a School is an alternative, digital education experience for 18–25-year-olds in the UK, designed to improve their skills in the 4C's – communication, critical thinking, collaboration and creativity. The application of these through innovation to solve societal problems, from climate change to online bullying, aimed to empower them to feel more confident at a time when there is a great deal of uncertainty about young people's futures.
COVID-19 meant Not a School needed to provide a wholly digital experience without losing the depth of face-to-face learning. The experience was hosted on FutureLearn in two forms: four self-led courses allowing anyone to take part in their own time, and four full-time two-week courses with live and pre-recorded sessions for one-hundred selected 18–25-year-olds. Teaching content was provided by diverse, unconventional experts like Samsung UK, Hubbub, Internet Matters, The British Red Cross to influencers such as Jack Harries, Lady Leshurr and Liv Little.
Over 17,000 students enrolled in Samsung Not a School in 2020 and as a result took part in over 927 days' worth of alternative online learning in just 4 months. Of those who experienced the immersive 'live' course, 97% rated the course 'excellent' or 'good' and 94% would recommend the experience to a friend. Not only that, they also left feeling more confident Solving problems (up 16%), Collaborating (up 16%), Networking (Up 22%) and Prototyping their ideas (up 33%).