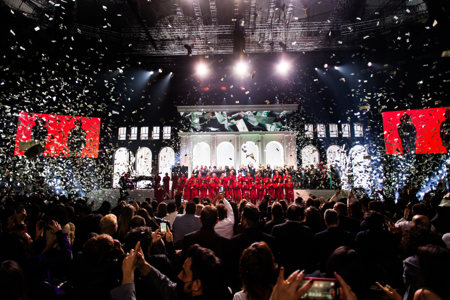 ---
Money Heist: The Biggest Fan
Amplify
---
Client: Netflix

Ahead of the launch of the final season of the high-octane hit series, 'La Casa De Papel' (Money Heist), Netflix wanted to find a way to promote the release, putting viewers and fans at the heart of the activation.
Having seen the incredible impact Money Heist has had on people and culture around the world we knew this wasn't just about replicating moments, scenes and visuals from the show. Instead, our focus was taking the inspiration and thinking to create new exciting challenges, experiences and cultural moments.

To do this we created two world-building formats built 'with' and 'for' the fans, that could be activated locally but enjoyed globally, to reach a more mainstream audience and create peaks of conversations until the final broadcast and beyond.

The format-busting IRL-meets-content fully-integrated phased campaign mobilised Money Heist's devoted fanbase, recognising and rewarding them in a European search for 'The BIGGEST FAN'. Over 56k applied…

To celebrate the show's legacy, we then created 'EL LEGADO', a 120-minute talkshow-style event in Madrid. Livestreamed globally in 10 languages, it was attended by writers, directors and the entire cast plus 5,000 fans, guests and influencers with cameos from celebrity fans including Ed Sheeran.

Whilst complex in build and requiring rigour in execution, we achieved our mission to create a fun-packed, emotional and interactive experience-led campaign spanning events, broadcast, shooting a TVC, managing PR and social and OOH.

The hard work paid off. More than 10 million fans globally watched the livestream, broadcasts or content created.