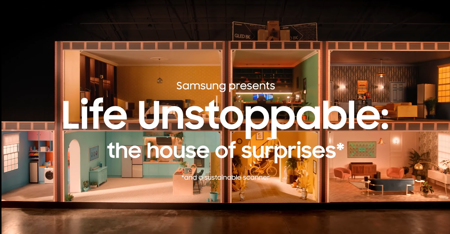 ---
Life Unstoppable: 'House of Surprises'
Smyle
---
Client: Samsung

Samsung challenged Smyle to rethink how brands can engage press and partners, and to re-invent the Life Unstoppable activation Smyle had previously created. 'The House of Surprises' was an ambitious, immersive, virtual experience, rooted in creating branded entertainment that showcased Samsung's ecosystem of connected devices. Launched simultaneously in 17 countries across Europe on 18 October 2021, the campaign showcased how Samsung products fit into people's daily lives.
Smyle blended entertainment, experiential marketing and storytelling to challenge the status-quo of how product launches engage audiences. It took a new approach to branded entertainment content, giving participants control over the experience, turning experiential into more of an e-xperience. Life Unstoppable centered on a colorful and stylized mini-movie touring the iconic Samsung 'House of Surprises'.
It follows a family of eclectic characters on a journey through their vibrant home, demonstrating the ways in which Samsung's connected ecosystem of devices allows the family to unearth their inner creativity and passion - fueling a Life Unstoppable. Unlike purely physical experiential events, in the e-xperience everything was measurable and trackable, from social time spent in the experience, to interactions, to understanding exactly what product the viewer was engaging with. The data was fed into Samsung's CRM system, helping to give a clear correlation between campaign objectives and our solution. The e-xperience attracted over 7,740 attendees and 60% watched the full 45-minute show.