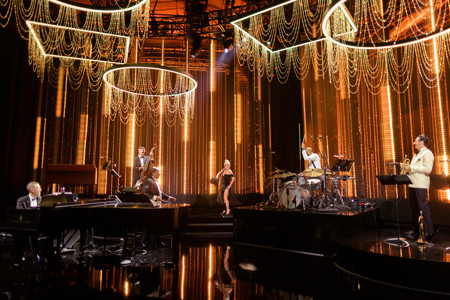 ---
Lady Gaga celebrates Love For Sale by Westfield
Amplify
---
Client: Westfield

As part of our collaboration, we wanted to celebrate Lady Gaga's jazz inspired 'Love For Sale' album. In the midst of the pandemic, during a time where music performances had become formulaic and predictable, Westfield went about creating a music moment that changed how audiences could interact, participate and shape the performance of one of the world's biggest pop stars.
Whilst the bespoke, designed-for-broadcast performance was shot in LA, the campaign lived globally. The performance and campaign was a one of a kind hybrid event that blended in-real-life moments with virtual broadcast. We also used live cameras at Westfield sites to intersect with broadcast and show live reaction from audiences globally giving an as-live feel to the performances. These were controlled in London via a broadcast truck that allowed us to beam them out simultaneously to the 21 physical Fan Zone events at Westfields across the globe, as well as to fans online and watching on Gaga's Instagram Stories.

The broadcast itself allowed for an innovative interactive skin that allowed our audience to leave notes of kindness, watch collectively with other friends, purchase exclusive merchandise and capture the moment placing themselves in the album artwork.

By taking this innovative approach over 2.6 million fans globally were able to get closer to the music experiencing and enjoying Lady Gaga's mesmerising 70-minute performance, brought to you courtesy of Westfield.