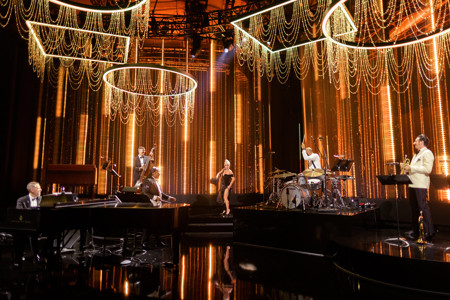 ---
Lady Gaga celebrates Love For Sale by Westfield
Amplify
---
Client: Westfield

As part of our collaboration, we wanted to celebrate Lady Gaga's jazz inspired 'Love For Sale' album, creating a music moment that changed how audiences could interact, participate and shape the performance of one of the world's biggest music icons.
In muted times, this was a bold spectacle that brought fans together globally. Taking creative cues from the album for the design of all the campaign assets, stage and Fan Zones, we immersed the audience in the world of jazz and Gaga, whether they experienced it online or IRL.
The performance and campaign was a one-of-a-kind hybrid event that blended IRL moments with virtual broadcast. Whilst the bespoke, designed-for-broadcast performance was shot in LA, the campaign lived globally through the broadcast and events at 21 Fan Zones at Westfields throughout the world.
We used live cameras at Westfield sites to intersect with broadcast and show live reaction from audiences globally giving an as-live feel to the performances.
Lady Gaga was so impressed she shared the performance through a collaboration with Instagram to create not only the most-liked performance on Stories but screened in 16:9, in a world-first, so audiences could enjoy the show in all its widescreen glory.
By taking this innovative approach, more than 2.6 million fans globally were able to get closer to the music, experiencing Lady Gaga's mesmerising 70-minute performance. Following this success, we are already working on a pioneering follow-up that will push the boundaries of musical collaborations even further.