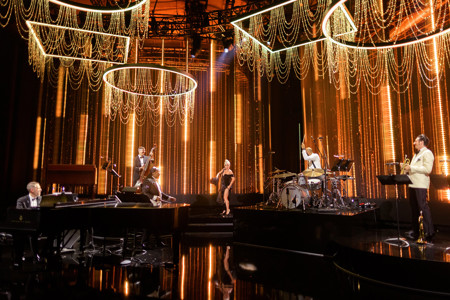 ---
Lady Gaga celebrates Love For Sale by Westfield
Amplify
---
Client: Westfield

As part of our collaboration, we wanted to celebrate Lady Gaga's jazz inspired 'Love For Sale' album. In the midst of the pandemic, we set out to execute a unique global campaign that created a world around Lady Gaga and invited audiences to immerse themselves in her world.
We created a pioneering show shot in a sound studio in Los Angeles on a stage that was intricately designed and took inspiration from the jazz theme of the album. The shoot ensured we were able to create moments of great intimacy, getting into angles that are impossible to reach during standard live stage performances.
This allowed us to create a unique 'as live' feel to the performance and ensured we were able to capture Lady Gaga's distinct monologues to our audiences at sites globally.
The virtual experience brought together a one-of-a-kind hybrid execution that was able to be enjoyed by a truly global audience through streaming platform Maestro, as well as a world-first widescreen Instagram Live. The broadcast itself was the most liked Instagram live ever.

The innovative broadcast allowed for our audience to interact with the performance by placing themselves in the artwork, send messages of kindness, watch collectively with their friends as well as buying exclusive merchandise.
By taking this virtual approach, over 2.6 million fans globally were able to get closer to the music and experiencing and enjoying Lady Gaga's mesmerising 70-minute performance, brought to you courtesy of Westfield.