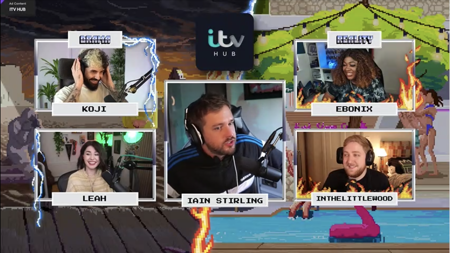 ---
ITV x Twitch: The Ultimate Battle for Your Attention
Essence Global
---
Client: ITV

In the summer of canceled plans, we invited ITV's Gen Z audience to a first-of-its-kind immersive event, without having to leave their house.
With ITV launching a new brand platform for 2021, 'Drama vs Reality', and young people turning away from traditional entertainment platforms, who could help us in ITV Hub's ultimate battle for viewer attention?
Gaming was identified as a core passion of our target audience and is an area that has shown huge growth, propelled by the pandemic.
So by partnering with Twitch, leaders within the live streaming and gaming space - we had a fantastic chance to engage with our audience within an environment they are accustomed to, on a more meaningful level.
A one-off live stream event hosted by Iain Stirling, featuring popular streamers battling for their team through custom branded challenges based around key ITV programming. Declaring their loyalty to #TeamReality or #TeamDrama, our Gen Z audience were immersed in the event through authentic conversations and talent interaction.
Our co-created experience was one that Twitch's audience will remember, with over 118,000 viewers during the live stream and 16,000 clicks to ITV Hub, we reached an engaged audience and increased genuine interest within the Drama and Reality content on ITV Hub.
Twitch's research study confirmed this success, with a huge 20% increase in unaided brand awareness for ITV Hub and a 33% increase in association of the Drama Vs. Reality message from the campaign. Proving that we were able to drive modernity and consideration for ITV.