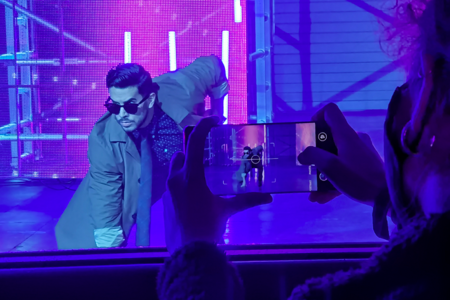 ---
Huawei MATE 40 Pro Smartphone Launch
Client: Huawei
---
Agency: INCA Productions

Inca had already been briefed to produce an immersive, cinematic experience to launch Huawei's flagship Mate40 Pro smartphone in late October 2020, when rising rates of COVID infection in London and the threat of further restrictions required a last minute pivot. With little over a week's notice, Inca re-designed the event, shifting from an intimate townhouse setting in Central London to a COVID-compliant Drive Thru movie set experience at Printworks.

The brief was to create a jaw-dropping yet completely COVID-secure experience for media and influencers to launch the new HUAWEI Mate 40 Pro smartphone. Huawei wanted to showcase the incredible camera and video functionalities of the device, while creating an interactive and spellbinding experience that would provide media with plenty of copy opportunities, and influencers with high impact creative content.
As the safety of the attendees was our paramount concern, we hit upon the strategy of a Bladerunner inspired Drive Thru event. Guests would be picked up in an electric car, driven to the venue, where, in groups of four cars at a time, they would drive through the event's movie set. They'd use the product from the safety of their individual vehicle and be driven home – never once leaving the safe and sterile cocoon of their car.
The dynamic, tech-focused, synchronised show pushed the parameters of a phone launch and cemented Huawei as innovators in their field. It was an innovative and creative solution that enabled Huawei to deliver an incredible socially distanced, COVID secure launch event.