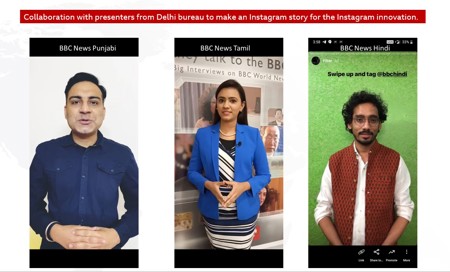 ---
How BBC News Got 26,000 People To Feature On Their Virtual Billboards in India
BBC
---
Client: BBC, 8 Million Stories, Oban International, AliveNow

During the COVID-19 lockdowns in India, BBC News World Service launched an augmented reality Instagram filter. The experience allowed audiences to appear virtually in billboards for our Indian language services from the comfort of their homes. This idea was the first of its kind by any news brand in India.
The campaign's objective was to drive awareness and consumption of all six BBC News language services in India (Hindi, Gujarati, Marathi, Tamil, Telugu, Punjabi), particularly, the under-35 audience.
We harnessed the spike in social media usage to launch a custom-made filter which allowed audiences to choose from the six Indian language headlines and three different virtual billboard styles. This interactive filter cost £6000 for all languages.
We gave audiences the chance to be the face of our campaign, allowing them to feel part of a community when people felt far apart.
Post COVID-19 lockdowns, seven participants were shortlisted to appear on real OOH billboards in India, allowing the filter to come to life, tailoring the campaign directly to our audiences' environment and experience. These billboards carried a QR code which redirected audiences back to the filter, so they could take part digitally.
The campaign received 605,000 organic impressions plus 108m paid impressions and 26, 000 captures using the filter.
We captured our target audience particularly effectively, with 92% of clicks from 16-34s.