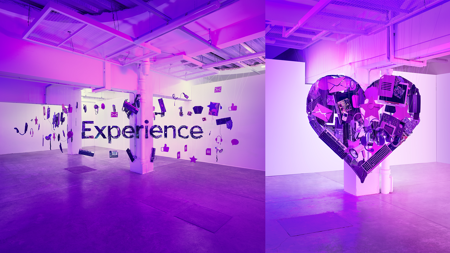 ---
Connected Experiences
Wunderman Thompson UK
---
Client: BT Global

Wunderman Thompson brought the story of BT's world-leading expertise to life by rejecting category clichés and concentrating on effective storytelling that kept the buying audience engaged and inspired from beginning to end. How? By using people's emotional responses to art to open the door to more rational sales conversations.
Collaborating with perceptual art pioneer Michael Murphy, we built a unique installation out of the equipment and channels used in daily customer contact experiences. It brings to life the understanding that where customers see single problems, BT sees the whole picture. At first, it appears to be a random collection of objects.
However, when viewed from specific angles the sculpture displays the word 'experience' from one angle, and a heart shape from another. Although the results are still immature, it has already redefined what LinkedIn best in class campaigns look like. It has 2.5x the click to site rates normally seen on LinkedIn. A 1.52% engagement rate vs platform benchmark of 0.6%. Current lead form completion rate is 39.6% vs a platform benchmark of 11%.