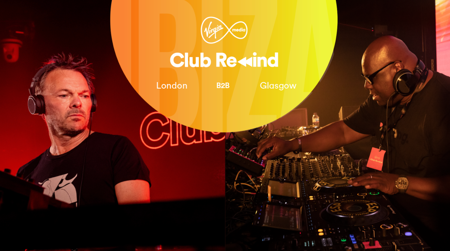 ---
Club Rewind: Connecting music lovers across the gerenations in a world-first clubbing experience
Audience
---
Client: Virgin Media

At a time when the majority of social distancing restrictions were only just being lifted in the UK, Virgin Media briefed us to design an activation that would showcase a moment of real Virgin Media connectivity. The activity needed to give customers across the UK access to an exclusive experience, whilst also underpinning the sentiment of their recent ATL 'Faster Brings Us Closer', which explores the theme of 'Unlimited timeless connections in a fast-changing world'.
Imagine being able to relive one of the world's most legendary club scenes. Via a social poll, we asked which classic club era people most like to re-live, 00s Ibiza won and Club Rewind was born. Club Rewind was the world's first interconnected club with legendary DJs playing back-to-back (B2B) across two countries, through the use of two-way video technology and large LED screens, clubbers were connected, and those at home who could not attend could watch the experience live on TV and online - all powered by Virgin Media's ultra-fast broadband.
The experience was amplified through a campaign that featured DJs Pete and Becky Tong which highlighted the intergenerational connections and heritage that music brings. Club Rewind brought the sentiment of VMs ATL to life at a historic moment in time with the reopening of clubs. As a multi-channel campaign activity, Club Rewind secured a combined circulation of 534m with coverage including ITV and Sky News and generated over 24,000 competition entries giving 1,400 customers a truly unique experience.