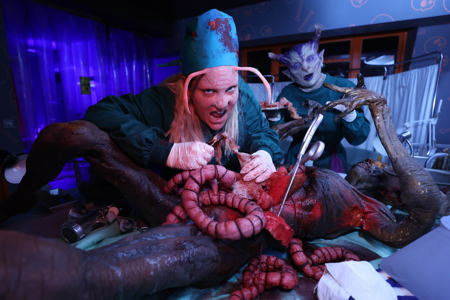 ---
Beavertown Pub Invasion
Swamp Motel
---
Agency: Swamp Motel
Client: Beavertown Brewery

With a brief to 'own Halloween', this called for a highly creative experience that would grab the attention of the media and big Halloween fans. For the debut event in their new band space, The Corner Pin Pub in Tottenham, Beavertown and Swamp Motel created a horrifying immersive experience like no other. Audiences were invited to experience a three floor spectacle that placed them in the heart of an alien crash site, complete with realistic 'alien' actors and FBI agents who led them through the disturbing scenes.
After making their way through an alien egg-hatching site, an encounter with a cannibalistic chef and a soothsaying floating head, ticket holders found themselves in the midst of a disturbing alien autopsy, having their blood extracted before one unlucky attendee being gruesomely disembowelled in a shocking twist ending. Rushing down to the bar for a much needed pint of the brand new 'Flesh' lager, attendees finished the night mingling and dancing with more friendly alien locals.
Oversubscribed by more than 40%, the experience received over 50k engagements on social media and over 30 pieces of press. With 23% of attendees new to the brand, the experience successfully drove awareness for Beavertown around Halloween, and brought new audiences to the brand through a debut creative event that married the Beavertown brand, with the gore and gruesomeness that Halloween fans love.