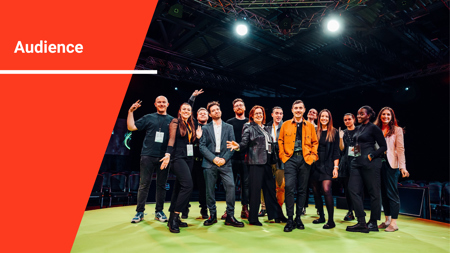 ---
Audience
---
A creative engagement agency based in Soho, Audience have a core team of 15, delivering cross-channel experiences for the likes of Google Cloud, Deloitte and Virgin Media. Audience believes in human connection, wherever it happens. Combining years of expertise in designing real-world brand experiences with a digital design practice, we create experiences that drive genuine interactions at scale, without geographical restrictions, wherever our audience wants to take part in them.
The delivery teams at Audience have earned unequivocal trust from the client base, having guided them through the ever-changing, unpredictable world of experience creation, particularly in the past 2 years. From hybrid to online, to in-person, Audience have created client-firsts, industry-firsts and world-firsts, setting the benchmark across B2B, B2C and B2E. In the midst of the pandemic, when seeing loved ones was top of mind in the UK, Audience created a multi-award-winning experience, the 'Two Hearts Pizzeria.'
This world-first experience connected loved ones using holographic telepresence technology, powered by Virgin Media. This not only captured an incredible moment in time, it complimented the client's ATL campaign 'faster brings us closer' seamlessly. The SLT believe in an employee-first approach to running the agency, with flexible working and guided career progressions, encouraging staff to grow and develop. There's even a company ski trip! 2020/2021 has been a big year for Audience, with big new client wins and exceptional client growth leading to a YOY revenue growth of 275%, but we're only just getting started. Bring on 2022!