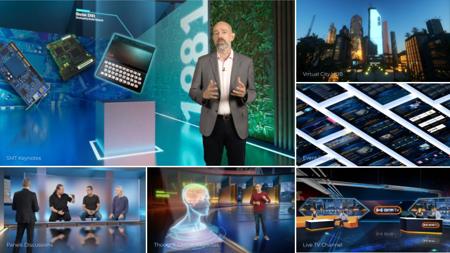 ---
Arm DevSummit 2021
Brandfuel
---
Client: Arm Ltd

The 2021 Arm DevSummit was the most ambitious virtual event Brandfuel has undertaken. We had to create a unique user experience for an unfamiliar audience in an untested digital landscape. And, after 18 months of virtual events, DevSummit needed to be sufficiently inspiring and relevant to cut through the digital fatigue.
As well as helping to curate content for many of the 130 sessions - all hugely technical in nature - Brandfuel had to create a platform with the capability to design and build a virtual city that would become the summit venue. At its centre was Arm headquarters, where developers would gather to hear how Arm technology is at the heart of the computing revolution. By taking developers around the building to attend different sessions, we produced a sense of physicality and energy throughout the three-day event.
For the live event, all the pre-recorded and live sessions had to be pulled together seamlessly for developers watching in 94 countries, across many time zones and in five languages. Hero content filmed on green screen, and edited with special effects, delivered complex ideas that educated our audience in a medium inspired by their passion for gaming. Our broadcast channel, Arm TV, played a key role in bringing all the content together. However, with the TV hosts in Silicon Valley and Brandfuel co-ordinating content delivery in London, this posed quite a challenge.
As DevSummit massively surpassed Arm's targets, they were thrilled with the delivery, and we are already collaborating on next year's event.