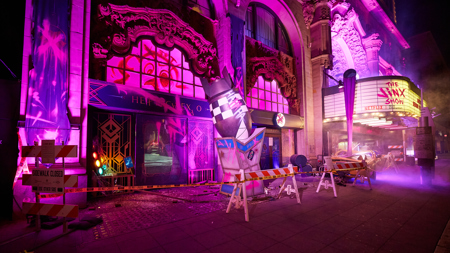 ---
Arcane Netflix Global Experiential Launch
We Are Collider
---
Client: Riot Games

Riot Games were launching an animated series Arcane on Netflix, based on popular PC game League of Legends. We were asked to conceive and produce a massive cultural moment through a global experiential campaign that represented a love letter to the fans, driving buzz and viewership.
We went deep to understand the community, developed a narrative that was authentic to the series and created a global movement that the community could engage with.
Kicking off with a takeover of the world's tallest building (Burj Khalifa, Dubai), we produced a 3-minute film as a campaign teaser. Footage was posted on the League of Legends YouTube channel.

A series of experiences were curated in retail spaces in six cities (Paris, London, Madrid, Istanbul, Singapore and Los Angeles) – 'Hextech Expo' stores teased gamers with the prospect of a showcase to demonstrate in-game technology using AR and interactive windows. Prior to opening, stores were 'destroyed' and Hex technology stolen by the series' main protagonist Jinx using destruction methods that aligned with the series story arc and episode drops. Stills and video content was amplified on social channels for fans to find clues to identify the culprit, next attack and episode content.
Toolkits were produced to support local market activations, social, OOH, print and video.
Arcane was viewed 34 million times in the first 6 days, reaching No. 1 on the Netflix charts in 50 countries.