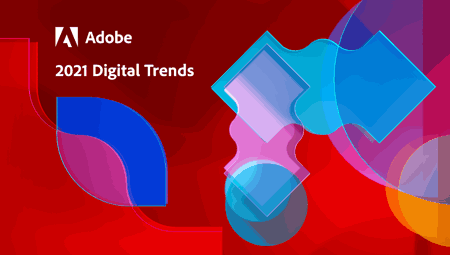 ---
Adobe Digital Trends 2021
Adobe
---
Client: Adobe

2020 has been a bumpy period for businesses. Since the pandemic, companies have been forced to innovate at breakneck speed, making decisions in the dark to see what worked… and what didn't. As the dust settled in January 2021 it was time to help brands take stock. So Adobe went on a mission to find what were the new priorities from the point of view of senior executive and leaders in customer experience. What worked, what winning solutions they were doubling down on, and what were their plans for the year ahead. Then, take these insights back to the wider marketing community to help them navigate these new unchartered waters.
Capturing insights from 13000 marketers across the globe, Adobe Launched the Digital Trends Experience Index 2021, covering topics from new buying behaviour and workplace wellbeing to the importance of doubling down on customer experience. The dynamic web experience allowed marketers in different regions of the world and industries unearth the insights that they most cared about in just few clicks – instantly accessing the brains of thousands of marketers. By applying just 1 filter, they had access to the agenda, plans and priorities of senior executives in all industries.
Six months from the launch the Index registered 147K visits, secured over 40 articles in tier one publications across EMEA, and reached 130% of its initial target.
"Adobe always produces interesting, well researched and thought-leading studies. The report notes a new breed of digital-first, experience-driven customer." – Roy Edwards, Enterprise Times (UK)