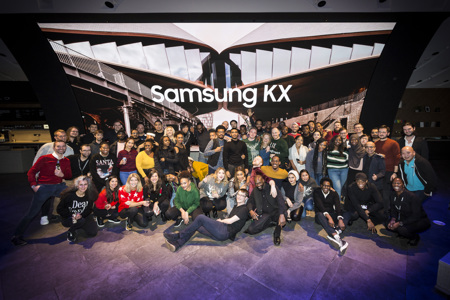 ---
Samsung KX
Stellar
---
Client: Samsung

As an agency, we are proud of the extraordinarily successful relationship we have built with Samsung over the past four years. All team members at Samsung KX were selected by Stellar for their unique personality and talent; they are individuals who radiate authenticity, knowledge and brand passion.
We invest in an immersive training programme ensuring staff are given the opportunity to perform to the best of their ability within a supportive, inclusive environment that promotes development and progression. Thanks to their commitment and adaptability, the team faced the challenges posed by the pandemic head on and swiftly transitioned much of the Samsung KX offering to online, ensuring its impressive events programme became accessible to both in-person and digital audiences. This programme, hosted in the innovative KX space at Drops Coal Yard, showcases a fascinating and diverse range of interests that connect with, inspire and educate the King's Cross and wider London community.
By inviting local businesses, charities and projects to apply to use the venue, we have been able to support the delivery of more than 400 events, each offering something different to residents and visitors alike. We were delighted to welcome Graduate Fashion Week back to Samsung KX, during which the team facilitated physical and virtual runway shows and exhibitions. New to the space in 2021 was COP26 Camden, an event aligned with the international climate change conference, revealing the council's sustainability pledges. We look forward to delivering many more impactive events together with the Samsung this year.