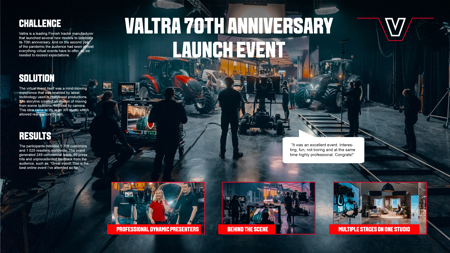 ---
Valtra 70th anniversary launch event
TAPAUS Oy
---
Client: Valtra Inc, TAPAUS, RMC, Kuubi, Markus Virpiö, Juge Heikkilä, Livetek, Teemu Raassina, Matias Martiarena, Henry Keinälä, Ulla Virtanen, Suomen Tulkkauspalvelu Oy and Movya

We are asked to create an event worthy of Finnish tractor manufacturer Valtra's 70th birthday and the anniversary novelty lineup. Due to the pandemic, we couldn't invite people to see the tractors live, so we took them to people's homes.
Inspired by the anniversary slogan "The Best Tractor Experience" we introduced that experience in the form of an interactive virtual event, produced in XR studio. After the event the audience was guided to a virtual showroom to experience the products in 3D. The whole campaign from pre-marketing to the showroom was integrated to Salesforce to enable easy and measurable purchases and lead generation.
The participants included 5 709 customers and 1 025 resellers worldwide. The event generated 249 commercial leads, 69 press hits and unprecedented feedback from the audience, such as: "Great event! This is the best online event I've attended so far."