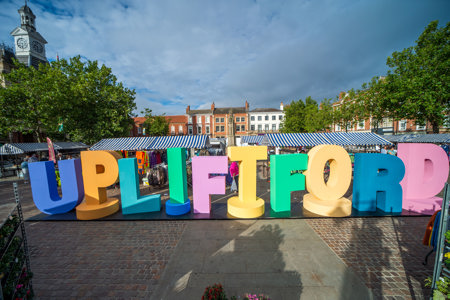 ---
Upliftford
The Park
---
Client: Asics

Partners: Agit8 Media, Pitch Marketing Group,
Welcome to "Upliftford" - an experiment proving that moving with Asics could lift the mood of an entire town. And where better than the place shown by research to have the lowest mood nationwide? We convinced councils, business owners and emergency services to let us transform the town of Retford in Nottinghamshire into Upliftford, a movement-inspiring gym.
We turned lampposts into goal posts, benches into bench presses and bus stops into bus steps. In doing so, we inspired Retford residents to move with us, resulting in a tangible positive impact on their minds and mood. Asics' Mind Uplifter tool that combines facial mapping technology with self-reported data showed a 27% mood uplift, and Carolyn Troop, Mayor of Retford said: "I've no doubt that the event uplifted the town and its people."
Its impact stretched across the UK too with coverage everywhere from the Daily Mail to Runner's World. Crucially, purchase intent for Asics running shoes increased as did UK market share. Which certainly lifted our mood.