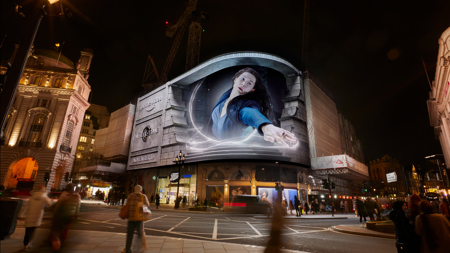 ---
'The Wheel of Time' global anamorphic launch
Amplify
---
Client: Amazon Prime Video

To mark the premiere of the new fantasy series 'The Wheel of Time', Prime Video tasked Amplify with delivering a never-before-seen launch moment that would inspire a global audience. Brought to life as a series of epic anamorphic illusions across six of Amazon's key global markets including London, New York and Tokyo.
Having previously pioneered anamorphic and CGI experience for brands including PlayStation and Fortnite, Amplify continued to innovate and up the ante. In a world first, Amplify fused live-action filming of the cast on set with anamorphic CGI and digital out of home.

The team worked collaboratively with Amazon Studios, accessing the CGI models used on the show and working closely with Rosamund Pike's movement coordinator to develop choreography that would allow her character to feel like she was genuinely reaching out of the screen towards the audience, no matter what city they were in. Directed by Amplify, Pike was then filmed in-character over an intricate live-action shoot. Each location required a bespoke performance which was planned in minute technical detail to maximise the illusion.

Experiences were locally enhanced with physical launch moments, such as an appearance from series lead Rosamund Pike in London to an immersive performance in New York.
Witnessed by many in IRL but experienced by many more through content, the campaign successfully engaged audiences online and offline, exceeding all expectations. With a final media reach figure in excess of 809 million, 'The Wheel of Time' became Prime Video's most watched series premiere of the year.