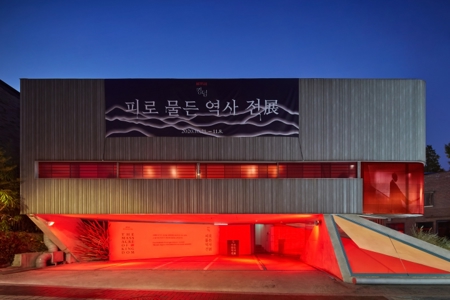 ---
The Massacre of Kingdom
Client: Netflix Korea
---
Agency: The Glue Society

The Netflix Original series, 'Kingdom', is a fictional story set hundreds of years ago, in Joseon-era Korea.
But what if that story was actually historical fact?
To promote Season 2 of 'Kingdom', we designed and created a three-story museum of historical artifacts in Seoul.
Open to the public over 18 days, from Sept-Oct 2020 to coincide with Halloween.
In this archaeology museum, the story of 'Kingdom' played out as real-life-history.
Three floors of exquisitely presented artifacts, were re-created true to the narrative, and the period.
Every detail had to live up the quality and precision of a real museum. From hand-painted scrolls, blown glass and mummified artifacts, to a traditionally carved wooden pagoda – decimated by fire.
Fans of the show were invited to come explore a world where fiction becomes reality.
For those that unable to attend the event in person, a 360 degree video experience ensured fans wouldn't miss out.
To enable a broader audience access, we also launched the film 'The Massacre of Kingdom Documentary'.
Tickets sold out within hours.
We filled 18 days of booking slots in less than a day, prompting extended hours of operation.
The website saw more than 100,000 unique visitors.
With the exhibition receiving rave reviews, local and international press, and front page coverage on Korea's #1 website.
Social media was alight with thousands of images, videos, tags and mentions across various platforms. Resulting in millions of social impressions, and Netflix brand sentiment reaching a historic high.