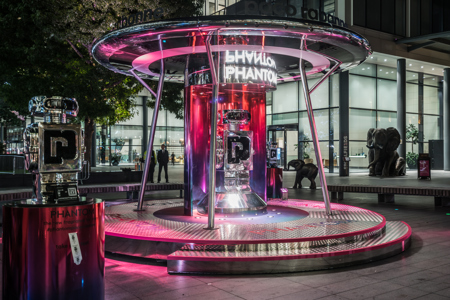 ---
The Future of Fragrance
Bearded Kitten & Impero
---
Client: Paco Rabanne

When Impero approached us with an intergalactic brief we knew immediately it was one for the Bearded Kitten history books! Were we interested in working with Impero? YES. Did we want to build a spaceship? Obviously?!
Would we be up for supporting digital artists breaking boundaries in global art scenes? Definitely! The brief: Paco Rabanne's new fragrance Phantom, a cutting-edge scent developed with neuroscientists, needed to be launched on planet Earth with a star-studded party AND public activation like no other, during September LFW. Welcome to Phantom: The Future of Fragrance. We imagined a utopian universe that would be sure to go down in history, complete with a multi-sensory spaceship and a ginormous Phantom robot which 'landed' for the launch party and then remained in situ over the course of the weekend. BAs handed out samples to a busy Spitalfields Market! Amongst a smoky sci-fi soundscape, a celeb packed guest list were greeted with ethereal models creating live bubble art.
Of course it wouldn't be a perfume launch party without, well, perfume. On the top floor of the gallery a lucent cube hosted a scented cloud which saw our star studded guest list bathing in the vanilla, lavender and lemon-tinged mist. Other smaller scented orbs reminiscent of spacesuit helmets were dotted around the gallery making sure the fragrance remained centre-stage at all times. Later on guests descended into the Paco Galaxy basement space via a custom infinity light tunnel for a full-on intergalactic space rave!