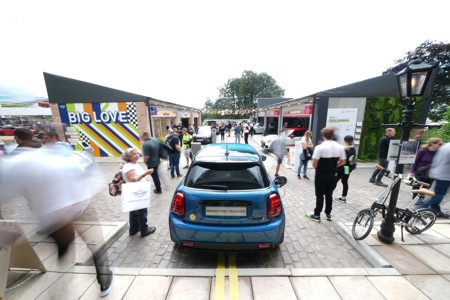 ---
MINI @ Goodwood Festival of Speed
TRO
---
Client: MINI

Goodwood Festival of Speed was going to be one of the first large scale events to return under the Government Test Event scheme and TRO were tasked with making the MINI stand the most positive place to be, creating memorable and shareable experiences for their fans, old and new.
Based on the initial creative concept of 'A MINI state of mind' we decided to create a fully immersive, interactive street style experience full of imagination, showcasing that there truly is a MINI for everyone. With the brand's 'BIG LOVE' manifesto at the heart, we set out to create distinct spaces based on the personalities of the hero products; the MINI Electric, JCW and Countryman, all unified by a coherent, British-inspired design language.
Our street style stand was flowing with entertaining experiences including DJ sets, a surprise flash mob, a post box which housed BIG LOVE inspired postcards that attendees could send to their loved ones from site as well as complimentary grooming services with our partner Murdock.
Even with a reduced budget and footfall numbers down by 26% due to the test event status, we managed to smash our KPI's including capturing 577 contacts for the MINI database (+13% on target set), increasing the total conversion of visitors seen to visitors engaged from 2019 by 16%, increasing the brand reach from 2019 by 21%, increasing the dwell time from 2019 by 11% and increasing the total number of engaged visitors from 2019 by 140%.