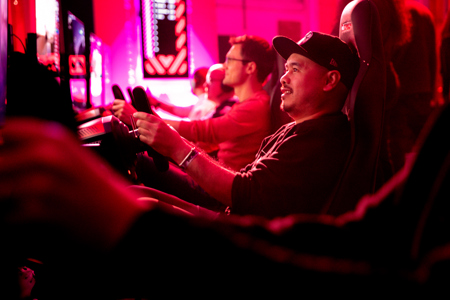 ---
LG OLED X Forza Horizon 5 Unleashed
Imagination
---
Client: LG

A debate that has raged in comment sections: what is the dream gaming setup? LG built one to demonstrate that OLED screens can truly compete with monitors in the minds of gamers. LG OLED Unleashed unveiled the new game in all its glory, with playful nods to the features of the franchise such as 'barn finds' and piñatas.
The campaign was built around a live event held at Dunsfold Park, better known as the filming location for Top Gear. Lucky winners of a pre-event competition attended an exclusive two-day experience which brought Forza Horizon 5 to life in an authentic way. This included an exclusive play of the game ahead of the global launch, using Xbox Series X consoles and LG OLED displays. Guests also got their chance to test drive the LG OLED Dream Gaming Setup: an immersive, 4D racing simulator housed in a stunning mirrored cube on the runway.
Our audience trusts elite gamers above all else, so we pitted four streamers against each other in a high octane content finale to the Unleashed campaign. Tasked with discovering a 'barn find', Benny Central, Aarav, James Buckley and Vikkstar put their real-life driving skills to the test on the Dunsfold track (hitting some piñatas along the way) before battling it out on Forza Horizon 5 in the LG OLED Dream Gaming Setup.
18.8mOnline Reach
1.2mOnline Engagement
95%of attendees considered an LG OLED a part of their 'dream gaming set up' post-event
36Piñatas destroyed