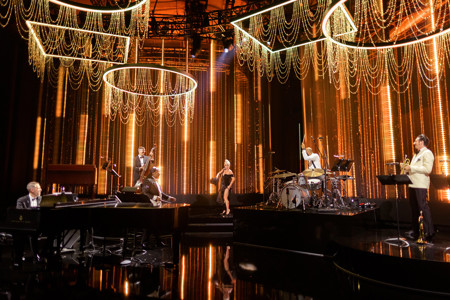 ---
Lady Gaga celebrates Love For Sale by Westfield
Amplify
---
Client: Westfield

As part of our collaboration, we wanted to celebrate Lady Gaga's jazz inspired 'Love For Sale' album. To do this we knew we had to create a pioneering and innovative campaign to cut through like no music moment before and allow audiences from across the world to come together in a changing physical and digital world.
We created an industry-first global campaign and broadcast with unique local moments putting Westfield and Lady Gaga at the heart of a cultural conversation. In muted times, this was a bold spectacle that brought fans together from all over the world.
We wanted the performance to be simultaneously 'exclusive' and 'inclusive', all the more so due to pandemic times, ensuring audiences and fans had real choice in how they participated and engaged in the experience.. Whilst the bespoke, designed-for-broadcast performance was shot in LA, the campaign lived globally through the broadcast and 21 intimate events spanning 10 different countries encapsulating Lady Gaga's audience of 51m fans.
Taking creative cues from the album, we created a world that immersed the audience in the world of jazz and Gaga. These cues were used to inform the design of all the campaign assets, the stage and the Fan Zones ensuring our audiences felt like they were enveloped in her world whether they experienced it online or IRL.
By taking this creative approach, over 2.6 million fans were able to get closer to the music, experiencing and enjoying Lady Gaga's mesmerising 70-minute performance, courtesy of Westfield.