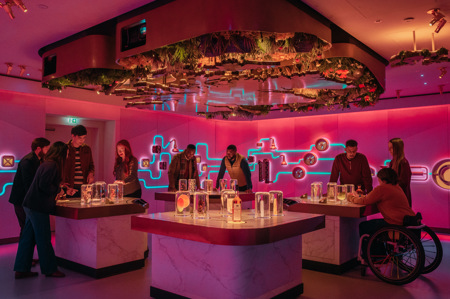 ---
Johnnie Walker Princes Street
BRC Imagination Arts
---
Client: Diageo

Set within an Edinburgh landmark transformed, offering eight floors filled with breath-taking bars, event spaces, and views across the capital and castle, Johnnie Walker Princes Street already had the perfect ingredients to stand as one of Scotland's finest attractions. But add into the mix a laser focus on creating story-rich, transformative guest experiences, and you have a destination unlike any other in Scotland, clearly demonstrating a masterful use of content in a live and experiential setting.
Johnnie Walker Princes Street stands at the heart of Diageo's £185million investment in whisky tourism in Scotland, which includes completely re-imagining the visitor experience at the new flagship and several distilleries across the country. These include the 'Four Corners' distilleries representing the regional single malt whiskies crucial to making Johnnie Walker – the world's bestselling Scotch whisky. After marking 2020 as the brand's bicentennial, the flagship Johnnie Walker Princes Street welcomed consumers to come walk with them in Summer 2021.
It not only stands as one of the best new attractions in a city renowned for its hospitality and visitor experiences, but also sets a new standard in how guests are welcomed and completely immersed in a world of flavour, storytelling, and engagement.