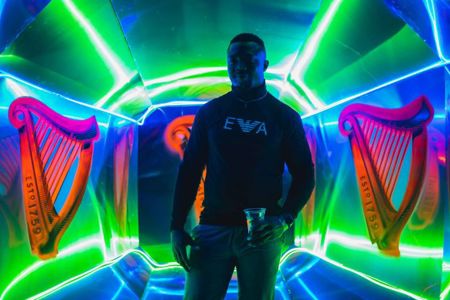 ---
Guinness Night Football
Client: Guinness Africa
---
Agency: HeyHuman

FEEL THE TASTE OF GUINNESS THROUGH FOOTBALL

How we got people to experience the colour and vibrancy of a black beer through football.

Guinness' challenge went way beyond the usual 'football as a brand-badging' exercise.

We'd been dislodged as the 'beer of football' by big competitors, our emotional connection with drinkers was in decline and our reputation as a dark, difficult liquid, at odds with the lively joy of watching the match, meant we were losing our footing in a key beer drinking occasion.

We needed a football campaign that would turn around hard-set perceptions of the brand and liquid and stand out in a cluttered market of big new global beer brands, with big budgets, new excitement and premium refreshment.

To stand out, we needed to step outside the familiar tropes of football activation and strike the rare balance between global brand work and local culture, something neither global nor local brands often achieve.

We knew African fans well enough that only something uniquely theirs would do justice to the feeling of exhilaration and freedom they get from football. A feeling that Guinness can live up to.

Guinness Night Football was football like never before, a high-octane mash-up of football, music, food and fashion. 13 regional events in bars and cities across Africa culminated in a pan-African 5-aside tournament, which made Guinness the most talked about beer brand.

Guinness Night Football epitomised what Guinness really is for a new generation of drinkers – a beer that defies expectations.