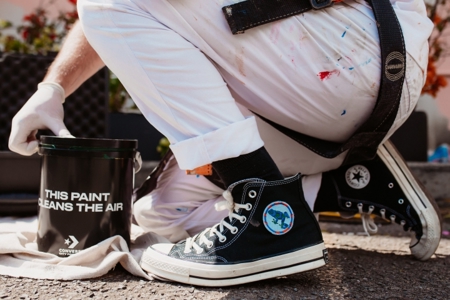 ---
Converse City Forests | Sydney
Client: Converse ANZ
---
Agency: Amplify

Promoting climate action with public art that cleans the air.
With the global pandemic dominating headlines and public discourse, the environmental conversation was taking a backseat. Simultaneously, the creative community was facing an existential crisis. With longstanding commitments to both creative culture and environmental sustainability initiatives, Converse met these challenges head-on with the City Forests platform that engaged their global All Star creative network to create public art with innovative, air-purifying, photocatalytic paint. Every square metre painted has the same positive impact as one mature tree.
To create a Converse City Forest in Sydney, we united celebrated local artist Elliott Routledge with not-for-profit organisation, Rainforest Rescue. Together they created a mural that stimulated environmental conversation, whilst combating the harmful amount of pollution in the area by absorbing the same level of air pollutants as 183 trees.
Because our audience of progressive, motivated young Australians demand more than a passive experience, we created a set of limited edition patches (with all proceeds going directly to Rainforest Rescue's tree planting effort), enabling them to personally take action.
The message reached over 4 million people and the mural, a first of its kind in Australia, continues to promote and deliver climate action.