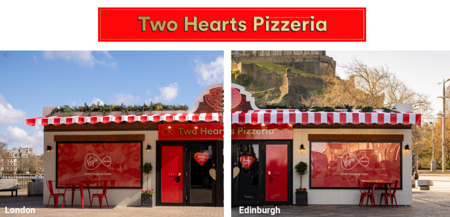 ---
Bringing 'Faster Brings Us Closer' to Life with a Holographic Telepresence Experience
Audience
---
Client: Virgin Media

At a time when being reunited with loved ones was top of mind in the UK (as lockdown restrictions were lifted), VM briefed us to design an activation that would showcase a moment of real VM connectivity. The activity needed to disrupt the physical and media landscape and bring to life the sentiment of their ATL 'Faster Brings Us Closer'.
The 'Two Hearts Pizzeria' activity featured two halves of a restaurant located in London and Edinburgh. Diners were sourced via a customer competition and were awarded a culinary experience like no other. Using 4K holographic telepresence technology, we brought loved ones together from across the country who enjoyed a meal, sitting across the "same" table, 400 miles apart.
A multi-channel campaign was designed to drive earned media interest in the 'Two Hearts Pizzeria' and to amplify the 'Faster Brings Us Closer' ATL. This three-phased communication strategy included; pre-launch media partnerships in local titles to drive competition entries, news stories on the future of holographic technology and announcements alerting press to the world first activation as well as media trials of the hologram dining experience on the day, and finally through content captured on the day as part of the experience we continued to tell stories of human connection afterward to sustain the story.
Powered by the UK's fastest major broadband provider, VM's Two Hearts Pizzeria captured an unforgettable moment in time, resulting in a combined circulation of 1.75bn.